A few words from Lynn Baker
PitchBop is created to help you to improve the connection between your ear and your instrument.
Ear training is one of the most vital musical skills and may be the most frustrating part of development because until now, there have been few ways to connect ear training skills directly to performance.
PitchBop solves this problem by creating a real-time experience of performing short melodic phrases and receiving feedback about how well you did and how you can improve.
The basic function of the app is based on the 'Call-and-Response' model. PitchBop plays a short phrase for you to hear, and allows you the same amount of time to repeat the phrase. PitchBop listens to you as you perform the short phrase, and evaluates the accuracy of your performance. This 'Call-and-Response' repeats and you receive feedback after the "session" has finished.
PitchBop works for any instrument and any style of music. It's a universal skill-building program for better musicianship at any level, from beginner to pro!
The Team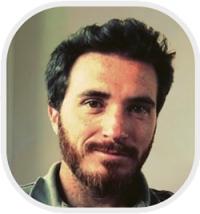 Maximos Kaliakatsos-Papakostas
Maximos is the lead software engineer of PitchBop. He holds a PhD in AI and Music and spends his time in research, software development, lecturing in universities, and running. His desire to keep in shape with playing the guitar is hindered by his desperate efforts to maintain a healthy work-work balance.
Andreas Apergis
Andreas helped with the graphical user interface of PitchBop. He studied Computer Science and classical piano, currently pursuing a master's degree in Electroacoustic Music Composition. He gets passioned for audio signal processing and computer music languages. When he's not nerding about these, he nerds about traditional cooking. Probably better at the last one though.
Dimitris Neonakis
Dimitris is one of the creators of PitchBop, whose main focus has been the musical content of the app. He is also one of the guys that created Genius Jamtracks.
Primarily a guitar player, he has taken part in various live and recording projects, both as a sideman and as a leader. When he is not playing with other people he spends his time playing along to the beautiful apps he helped create.
Antonis Tsikandilakis
Antonis is the co-creator of PitchBop and largely responsible for the UI/UX of the app. He is also the co-founder of Genius Jamtracks. A multi-instrumentalist, he performs with the free jazz trio, Outward Bound, as well as with the FreeTheSopranoPlayer artist collective. After a few years of being involved in music software development, he discovered that good code feels like beautiful music to him.
Lynn Baker
Lynn is a musician who plays saxophones and percussion in a wide variety of musical ensembles. Lynn has published many articles and books on improvisation, jazz history, and saxophone and is an Origin Arts recording artist, Conn-Selmer artist clinician, and Grammy-nominated music educator.
He has spent the past 40 years teaching music at various colleges and universities and has finally decided to do something useful with his life.
Dr. Bop is always happy to get in touch with you and answer your e-mails.
support@pitchbop.com
---
For more information, updates, and useful links, please visit our website.
www.pitchbop.com